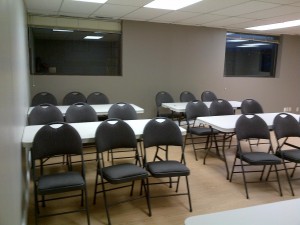 Calgary First Aid continues to deliver first aid, cardiopulmonary resuscitation (CPR), and automated external defibrillation (AED) training programs in Calgary since 2008. It has grown from one downtown office to three large training centres located throughout the City. It has risen to being the top provider of training courses in Calgary because of it's high volume of courses, amazing instructors, clean facilities and the lowest prices. Courses are offered at various schedules, with night and weekend classes. Certification and training meeting the latest ILCOR and CSA standards.  To register for a first aid, safety or CPR certification course in Calgary scroll down to view the contact information or the on-line registration form.
Registration for CPR Certification in Calgary
Enrolment can be completed using the on-line application form below. Customer service representatives are also available to help with phone calls or emails 7 days per week from 8 am to 9 pm. Use the contact information found below for email / telephone and address information.
For additional information, prospective trainees may contact Calgary First Aid with the information below.
Telephone: 587-774-5317
Website: http://firstaidcalgary.ca/
Downtown Training Address: Suite 102, 750 – 11th Street SW, Calgary, AB T2P 3N7
Northeast Training Address: 3359 27 St NE #110, Calgary, AB T1Y 4T7
Southeast Training Address: 610 70 Ave SE Unit #201, Calgary, AB T2H 2J6
Email Address: info@firstaidcalgary.ca
Downtown Calgary First Aid and CPR Training Centre
This CPR training provider is located near the heart of Calgary, with a number of free amenities such as nearby free parking and public transportation. Check out the map below to view more details about this location. This training centre is located in downtown Calgary, near Sunalta, Beltline, Mount Royal, Grandview, Inglewood, Belvedere, Glenbrok and nearby Crowchild Trail and Macleod Trail.
Northeast Calgary First Aid and CPR Training Centre
Located in Northeast Calgary this training centre proudly offers first aid and CPR certification courses to people in Chestermere, Airdrie, Taradale, Saddle Ridge, Skyview Ranch, Sage Hill, Royal Vista and more. It is conveniently located near highway 1, highway 2 and 201. Free parking is available on-site as well as easy access to nearby amenities and transit. It proudly serves students of SAIT, University of Calgary and more. Check out the map below for more location information. Don't forget to view the over 700 5 star Google Reviews that this location has.
Southeast Calgary First Aid and CPR Training Centre
Located near Glenmore Trail and Blackfoot trail in the southeast quadrant of Calgary this training centre has been provided courses for the region for over 10 years. With plenty of nearby amenities it also boast amazing Google reviews and plenty of free on-site parking. Check out the map below to view more information about this training centre.
Range of classes
Calgary First Aid offers a wide range of training courses, stand-alone classes, private classes, and refresher courses. Popular classes include CPR and AED, first aid, special child care, and food safety. All classes are offered at various schedules throughout the week, with private classes offered to big groups, companies, or trainees who have scheduling problems.
Training courses for CPR and AED have three different levels to choose from levels: "A", "C", and "HCP". CPR HCP is also referred to as basic life support (BLS) and is easily one of the most popular courses available.
Basic first aid classes cover different skills needed in managing different kinds of emergencies. Skills such as bandaging, burn and bleeding management, and choking rescues are the most requested first aid class topics.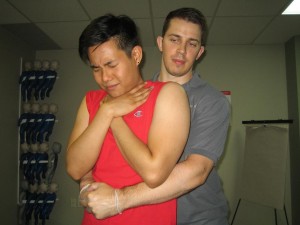 Stand-alone CPR and AED or first aid classes are available as well. A large number of other safety courses are also available including the following programs:
3M Mask Fit Testing
3M and Honeywell hearing fit protection testing
Confined Space Entry
H2S Awareness
Fall Protection
Basic, Intermediate and Advanced First Aid
TDG
WHMIS
Program rates
Calgary First aid offers the most competitive values for all of its St Mark James first aid, CPR, and AED courses. No other training service provider in Calgary has lower rates for personal lessons, group classes, or re-certification classes. Check out the price list for all St Mark James CPR certification programs below.
All rates are inclusive of taxes, certificates, St Mark James registration fees, and training manuals and equipment.
St Mark James CPR level "A" and AED Full Course – 58.99
St Mark James CPR level "C" and AED Full Course – 69.99
St Mark James CPR level "HCP" and AED Full Course – 69.99
St Mark James CPR level "C" and AED Re-Certification Course – 54.99
St Mark James CPR level "HCP" and AED Re-Certification Course – 64.99
All training courses are St Mark James certification classes. Trainees who complete any of the training courses will receive a St Mark James training certificate, valid for three years throughout Canada. Full refunds are available to trainees who drop out, given a 72-hour notice is provided.
Refresher courses
Renewal / re-certification of expiring certificates are available twice a week through Calgary First Aid refresher courses.
Training centers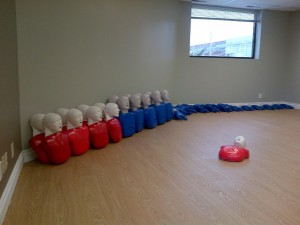 Classes are held in high-end training centers with the latest training equipment in first aid, CPR, and AED. Classrooms are spacious and air-conditioned to provide the best learning experience for Calgary First Aid trainees.
Did You Know?
Over 18% of Canadians are required to have either a first aid or CPR certificate for work or school purposes. There is an incredibly high demand for first aid and CPR certification programs due to various job requirements. One of the most popular courses is standard first aid with CPR level "C", required in most workplaces in Alberta