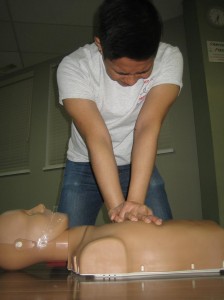 If a family member was laying on the floor unconscious would you know what to do? What if a friend was having a stroke? Would you recognize the signs and symptoms of a seizure? Learn to recognize and manage these emergencies by enrolling in first aid and CPR certification programs in Victoria. If you are looking for high quality programs at the lowest prices we strongly recommend that you register with Victoria First Aid. This training provider has been offering courses in Victoria since 2008 and is popular for its high volume of courses, conveniently located training centres and experienced teachers. A wide range of courses are available including CPR level's 'A', 'C' and 'HCP'. CPR training can be partnered with first aid courses and offered in courses such as occupational, standard, childcare and emergency first aid. This provider also offers courses such as on-line WHMIS training and food safe level 1. For more information about available courses or to sign up for a training course use the contact information posted below.
Enrol in a training course with Victoria First Aid today
To register for training with this provider or to inquire about first aid attendee, consulting, supplies or equipment use the following contact information:
Telephone: 1-888-870-7002 (Toll Free)
Email: info@firstaidservices.ca
Website: www.firstaidcprvictoria.ca
Friendly customer representatives are available to help with any registration questions, purchases or concerns.
What CPR Certification Courses Are Available?
Participants in Victoria, British Columbia have several different CPR courses to choose from. Here is a list of the 5 most popular courses:
CPR level 'A' and AED
CPR level 'C' and AED
CPR level 'HCP' and AED
Basic Life Support (BLS)
Advanced Life Support (ALS)
Participants that enrol in the above mentioned courses will learn the latest CPR standards as provided by the American Heart Association
What First Aid Courses Are Available?
A number of different first aid programs are also available with Victoria First Aid. The following is a list of the first aid courses that they offer:
Standard first aid
Occupational first aid level 1 (OFA level 1)
Emergency first aid
First Responder
Childcare first aid
Babysitting Training
Re-certification courses
For more information about the above mentioned courses use the contact information provided above. All of the above courses include CPR and AED training. Certification provided is valid for 3 years throughout Canada. OFA level 1 certification meets WorkSafe BC standards for first aid training in British Columbia. Participants that enrol in standard or emergency first aid will be able to select the level of CPR training they would like to partner with the course. Re-certifications are available for individuals that want to renew expiring awards and that meet the required prerequisites.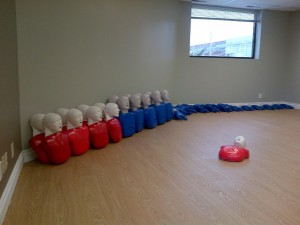 Did You Know?
Symptoms of a heart attack
Pressure on the chest
Squeezing pain
Pain radiates to the rest of the chest, shoulder, nape, and jaw
Worsening pain
Shortness of breath
Sweating
Feeling of impending doom
Loss of consciousness
Nausea
Vomiting
Victoria First Aid is your best choice for workplace approved certification courses. Enrol in a class with Victoria First Aid today!