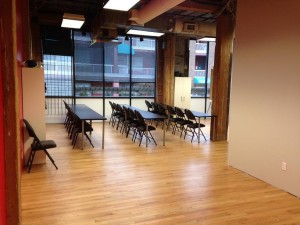 Choosing the best training service provider in Thunder Bay can be a hard task but with Thunder Bay First Aid, you don't have to look any further! Training courses with Thunder Bay First Aid are high quality St Mark James training courses, taught by St Mark James certified instructors and offered at the cheapest rates. Classes are available throughout the week, with certain classes offered during the evenings and weekends.
You can register at the Thunder Bay First Aid website for the training course of your choice. Stand-alone, private, and refresher / re-certification courses are available as well. Visit the website for further details and schedules.
Most Affordable Costs for St Mark James Classes in Thunder Bay
Thunder Bay First Aid offers trainees a selection of training courses and refresher courses for the lowest rates. Rates are inclusive of taxes, certificates, St Mark James registration fees, training manuals, and training equipment. This service provider is devoted to providing the cheapest prices for all of its lessons within Thunder Bay.
Large Assortment of Classes in First Aid and CPR
Thunder Bay First Aid offers trainees the largest selection of training courses in the area. Different training courses and stand-alone classes are listen below.
Standard first aid and cardiopulmonary resuscitation
Standard childcare first aid and cardiopulmonary resuscitation
Emergency first aid and cardiopulmonary resuscitation
Emergency childcare CPR and first aid
Basic marine first aid and CPR
Babysitting first aid
CPR level HCP
CPR A
CPR level C
Basic first aid classes focus on skill building of various first aid skills for various emergency situations. One of the most popular topics and dealing with burns – from scalding injuries to injuries to a direct flame.
http://www.youtube.com/watch?v=Dsvtzwp4nG8
Stand-alone first aid or CPR and AED classes are available for trainees who do not want to undergo the entire training course.
Scheduling
Classes are offered at various schedules, including night and weekend classes. Trainees who have problems with scheduling can choose to enrol in private classes usually offered to big groups or private companies.
Certification
Trainees who are able to complete a training course are given a certificate for first aid, CPR, and AED training, valid for three years throughout Canada. Refresher / re-certification courses for renewal of expiring or near-expiry certificates are also available twice a week with Thunder Bay First Aid.
Training facilities
All training centers are equipped with the latest first aid, CPR, and AED training equipment. Classrooms are spacious and air conditioned, to give trainees a very comfortable learning experience. Centers are easily accessible to and from public transportation, with free parking available as well.
Did You Know?
Anaphylaxis
One of the most common emergencies first aid rescuers will deal with is severe allergic reactions known as anaphylaxis or anaphylactic shock. People with severe allergies to bee stings, peanuts, and shrimp are the most common victims. Anaphylaxis occurs in minutes – even seconds – after expose to an allergen and is very dangerous and life-threatening. When the body recognizes the allergen, it sends out a flood of chemicals through the body, causing hypotension (low blood pressure) and difficulty breathing. The airways begin to swell and spasm, making it very difficult to breath. Epinephrine pens are usually carried by people with these kinds of allergies. One injection into a muscled area (typically the thigh) can arrest the signs and symptoms of anaphylactic shock.
What are you waiting for? Enrol in a training course with Thunder Bay First Aid today!