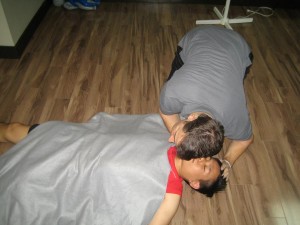 Get certified with Red Deer First Aid, the largest and most popular Alberta OH&S first aid and CPR provider in the city. Learn to manage a variety of emergencies including cardiac arrest and choking when you register for CPR and AED training courses such as basic life support (BLC), CPR level "C" and health care provider CPR (CPR "HCP"). Re-certification, private, first aid, safety and food safety courses are also available with this provider. Available first aid and safety services include workplace safety audits, first aid supplies, advanced safety equipment, first aid attendee rentals and more. Safety courses such as WHMIS, TDG and H2S awareness are available on-line. Visit the Red Deer First Aid website to enrol for training course today! A complete list of offered classes and schedules can also be found on the website. More registration information is available below.
Registration Information
Use the following contact information to contact this provider:
Toll Free Telephone Number: 1-888-870-7002
Email Address: info@firstaidservices.ca
Website: www.firstaidreddeer.ca
Friendly customer service representatives are available during regular business hours Monday through Sunday to help with registration or to answer your questions.
Reasons to enrol with Red Deer First Aid
1. Cheapest class rates in Alberta
No other training service provider offers better rates for high quality training courses than Red Deer First Aid. Taxes, certificates, St Mark James registration fees, training manuals, and training equipment are included in the intial enrolment fees so trainees don't have to worry about additional expenses. Trainees who are unable to complete the training course are entitled to a full refund, provided that they give a 72-hour notice.
2. Widest range of offered courses
A list of Red Deer First Aid's most popular classes can be seen below.
Standard first aid, CPR level "A", "C" or "HCP" and AED
Standard childcare first aid, CPR level "B" and AED
Emergency first aid, CPR level "A", "C" or "HCP" and AED
Babysitting Training
Marine first aid
Advanced first aid
CPR level 'A'
CPR level 'C'
CPR level 'HCP'
Basic Life Support
Advanced Cardiac Life Support
Pediatric Advanced Life Support
Workplace Hazardous Material Information System
Transportation of Dangerous
Use the contact information posted above to register for a course today.
3. St Mark James Certification
All training courses are overseen by St Mark James and Alberta OH&S certified instructors. Trainees who are able to complete the training course of their choice are awarded St Mark James certificate for first aid, CPR, and AED, valid for three years throughout Canada. Should a trainee be unable to complete a training course, he or she is entitled to a full refund, provided a 72-hour notice is given prior to dropping out.
4. Flexible scheduling
Training classes are offered throughout the week at various times, with night and weekend classes also available. Trainees who still have problems enrolling in any of the regular class schedules can choose to enrol in a private class, usually taken by big groups and companies. Refresher courses for renewal of expiring or near-expiry certificates are available twice a week at Red Deer First Aid.
Did You Know?
Cardiogenic shock
Cardiogenic shock happens during heart failure and the heart cannot pump enough blood to the rest of the body. This causes low blood volume to circulate through the body leading to shock. Cardiogenic signs and symptoms include:
Difficulty breathing
Shortness of breath
Weak, rapid pulse
Confusion
Loss of consciousness
Sweating
Pallor (pale skin)
Cool extremities
Less urine output
Enrol with Red Deer First Aid now and get St Mark James certification you need!