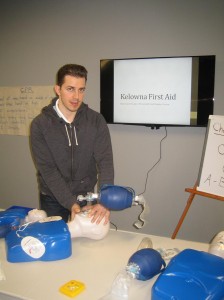 Kelowna First Aid has been a top training service provider for first aid, cardiopulmonary resuscitation (CPR), and automated external defibrillation (AED) training since 2006. It offers a variety of training courses including mask fit testing, hearing fit testing, fall protection, advanced first aid, intermediate first aid, confined space entry, TDG, WHMS and many more. Classes are offered during evenings and weekends as well. Enrolment is quick and easy, with various ways to register for the training course of your needs. You don't have to worry about the quality of Kelowna First Aid training courses because all classes are taught by St Mark James certified instructors, with the latest training equipment that meet the latest WorkSafeBC standards. To register for a CPR certification course in Kelowna click the link below or complete the online registration form on this page.
More Contact Information about CPR Certification in Kelowna
Registration for any course is quick and easy. Use the following information to contact this St Mark James training provider:
On-line registration: http://www.firstaidkelowna.ca
Email registration via: info@firstaidcourses.ca
Telephone registration via:  250-277-1944
Visit the Training Location at 1634 Harvey Ave, Kelowna, B.C. V1Y 6G2
Location Information about CPR Certification in Kelowna
This training provider is located near the city center of Kelowna along Harvey Avenue. The training location includes free parking, access to public transit, and plenty of local restaurants nearby. View the map below for more information about this location.
Class Schedules
Training courses are offered at various schedules throughout the week, with night and weekend classes available. Refresher courses for expiring certificates are available twice a week.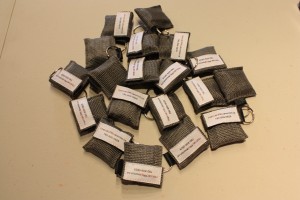 Trainees who are unable to enroll in any of the regular schedules can opt for private classes usually offered to big groups or companies. Instructors can come to you or private programs can be held at your facility if space is available.
What Will I Learn in a CPR Course?
Participants that enroll in a CPR course in Kelowna will learn about the following topics:
Scene Assessment
Protective Equipment
Disease Transmission
Management of victims of the different level's of consciousness
5 Rights of Medication
Do Not Resuscitate Orders
Artificial Respiration
Cardiopulmonary resuscitation
Compression only CPR
Automated External Defibrillators
Circulatory Emergencies
Breathing Emergencies
Choking Emergencies
When and how to contact EMS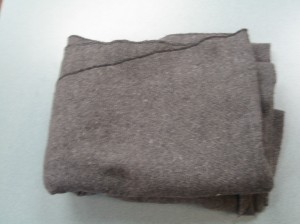 What Additional Topics are Covered in a First Aid and CPR Course?
Shock
Diabetic Emergencies
Seizures
Poisonings
Environmental Emergencies
Sudden Medical Emergencies
Broken Bones
Deadly Bleeding
Muscular Injuries
Skeletal Injuries
Concussions
Learn about these topics and more by enrolling in a hands-on first aid and CPR course with this Okanagan provider.
Class Rates in CPR Certification in Kelowna
Kelowna First Aid offers training courses at the lowest rates in the area. Initial enrolment fees are inclusive of taxes, certificates, and St Mark James registration fees, as well as training manuals and equipment. Trainees who drop out are given full refunds, provided a 72-hour notice is given.
CPR level "A" and AED Certification Course – 48.99
CPR level "C" and AED Certification Course – 64.99
CPR level "HCP" and AED Certification Course – 64.99
CPR level "C" or "HCP" and AED Re-Certification Course – 47.99
St Mark James Certification
All training courses are St Mark James certification courses. Trainees who are able to complete the training courses are awarded a St Mark James certificate for first aid, CPR, and AED, valid for three years throughout Canada.
Facilities and Trainers
Classes are held in high-end training centers, with highly competent, St Mark James certified instructors. Classrooms are spacious and air-conditioned because Kelowna First Aid is dedicated to the comfort of its trainees.
Did You Know?
Managing high blood pressure (hypertension)
The number one thing to do to manage high blood pressure is lifestyle changes. Hypertension is often caused by an unhealthy diet and a sedentary lifestyle.
The DASH diet (dietary approaches to stop hypertension) – the daily diet has to be low in fat and less in salt – direct causes of high blood pressure
Regular exercise – light to the medium exercise of at least 30 minutes at least 3-5 times a week
No smoking – nicotine damages and narrows blood vessels, making them very susceptible to plaque formation and raising blood pressure
Avoiding caffeine – caffeine narrows our blood vessels, raising blood pressure
Check out the Kelowna First Aid website for additional information on classes and scheduling. Enroll in a training course today!