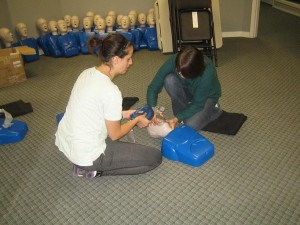 Do you need to get certified in the latest cardiopulmonary resuscitation (CPR) standards? Do you want to learn how to recognize and manage emergencies such as cardiac arrest, heart attacks, and choking? Register with Regina First Aid to get certified with the most popular provider in Saskatchewan. This provider offers the lowest prices, the most experienced instructors, and easy registration (available by telephone, email, online, online chat, and in-person). Participants can register for a wide range of courses including two-day standard first aid, food safety, WHMIS, and CPR certification courses. To register for a CPR certification course in Regina click here. To register for a course, inquire about other services available with this provider or to book a private course use the contact information provided below.
How to Contact Regina First Aid?
To contact this Saskatchewan and Canadian-approved first aid, CPR, and food safety provider use the following contact information:
Website: http://www.firstaidregina.ca
Telephone: 1-888-870-7002
Email: info@canadianfirstaid.ca
Staff is available to take your call from 7 am to 6 pm from Monday to Sunday.
What can CPR Certification in Regina offer you?
Flexible scheduling
All training courses, stand-alone classes, and refresher courses are offered at various schedules throughout the week, with night classes and weekend classes also available for enrollment. Trainees who have trouble with scheduling and cannot enroll in any of the regular class schedules can opt for a private class. Private classes are available at the training center or a qualified instructor can come to you. Competitive rates are available for private classes.
Wide range of classes
The following workplace first aid, safety, and CPR certification courses are available: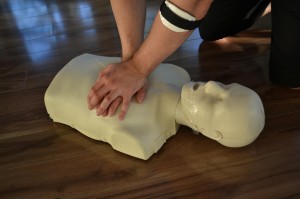 Standard first aid and CPR
Emergency first aid and CPR
Childcare first aid and CPR
Babysitting Training
Marine First Aid
Basic Life Support
Advanced Cardiac Life Support
Advanced First Aid
Pediatric Advanced Life Support
Workplace Hazardous Material Information System
Transportation of Dangerous Goods
Material Safety Data Sheets
Fire Safety
H2S Alive
H2S Awareness
Food Safety Certification
Stand-alone CPR "C"
Stand-alone CPR "A"
Stand-alone CPR "HCP"
To register for any of the above-mentioned courses use the contact information provided above.
Cheapest training course rates in CPR Certification in Regina
No other training service provider offers trainees better rates. Initial enrollment fees are inclusive of taxes, certificates, St Mark James registration fees, training manuals, and other equipment. Trainees who choose to drop out of a training course are given a full refund, as long as they provide a 72-hour notice.
St Mark James Certification 
All first aid and CPR and AED training classes are St Mark James certification classes. Trainees who are able to complete a training course are awarded certificates for first aid, CPR, and AED training, valid for three years throughout Canada.
Renewal / re-certification of expiring certificates may be done through refresher courses offered twice a week at Regina First Aid.
What Will I Learn in a CPR Course in CPR Certification in Regina?
Participants that enroll in CPR certification courses will learn about the following topics
Rescuer and victim safety
Barrier devices and personal protective equipment
Moving a victim
Recovery position
Managing fully and partially obstructed conscious and unconscious victims
Do not resuscitate orders
Cardiac Arrest
Cardiopulmonary resuscitation
Automated External Defibrillators
Circulatory Emergencies
Breathing Emergencies
Get certified and learn life-saving skills by enrolling in a course today.
Did You Know?
Testing for diabetes with a random CBG test
Capillary blood glucose (CBG) test – CBG testing is done two hours after a meal, at random times. A random CBG result of 200 mg/dL or higher is suggestive of diabetes. A result of 140 to 199 mg/dL is considered prediabetes. Normal results are between 90 – 139 mg/dL. Anything lower is considered hypoglycemia. While results from a CBG test aren't conclusive, when coupled with signs and symptoms of diabetes, the result is a prominent diagnostic factor.
Visit the Regina First Aid website today for more information about classes and schedules. Enroll in first aid, CPR, and AED training course today!