Toronto First Aid is the largest, most popular and experienced provider of academic and Ontario WSIB approved first aid and / or CPR certification courses in Toronto, Ontario. Learn to recognize and manage medical emergencies and injuries such as heart attacks, angina, stroke, open fractures, concussions, cardiac arrest, deadly bleeding, spinals, poisonings, seizures, hypothermia, heat stroke and more when you enrol in standard first aid and CPR. A number of stand-alone CPR and life support certification courses are available including CPR for health care providers, CPR for lay rescuers, basic life support and advanced cardiac life support for individuals that work in intensive care units. Workplace safety and food handling classes are also available. Classes are conveniently located, clean and taught with experienced and professional instructors. Course prices are the lowest in the city. Private classes and a number of first aid services are also available. Check out the Toronto First Aid website to register for a training course or for additional information on offered classes and schedules.
Contact Toronto First Aid
To contact this Ontario WSIB approved provider use the following contact information:
Telephone Number: 1-888-870-7002
Email: info@firstaidcourses.ca
Website: www.torontofirstaidcpr.ca
On-line registration is available. Customer service specialists are knowledgeable and able to answer questions and help with registration from 8 am to 7 pm Monday through Sunday.
Top 11 Reasons To Register with this Provider
No other provider offers more basic first aid and CPR certification courses in Toronto
Private courses are available at the training centres or a trained and experienced instructor can come to you
This provider has the lowest prices for both public courses and private programs
A number of CPR courses are available including basic life support, CPR level 'A', 'C' and health care provider CPR.
Participants that have current awards and meet prerequisites may attend re-certification courses which are available multiple times per week.
Instructors are knowledgeable, experienced and professional. Participants won't be stuck in long and boring lectures
Classrooms are conveniently located throughout the city
Classrooms are clean and well-maintained
This provider understands that life happens and plans change. Customers can request refunds or transfer to another cost at no extra cost as long as the request is done prior to 72 hours of the course.
This provider is one of the most experienced providers in Canada
Certification is valid for 3 years and meets Ontario WSIB requirements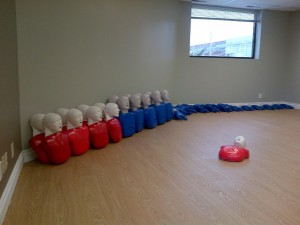 Training classes are St Mark James certification courses.
Trainees who are able to complete a training course receive a St Mark James certificate for first aid, CPR, and AED training, valid for three years throughout Canada. Trainees with near-expiry certificates can renew them through refresher courses offered at least twice a week at Toronto First Aid.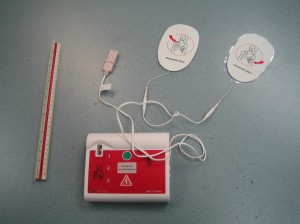 Private classes are available for big groups and companies.
Private courses are available for a number of programs. Private classes can be held at the Toronto First Aid training centre or an experienced instructor can come to your facility on your schedule.
Huge Selection of Courses
Participants can select from a wide range of courses from this provider including:
CPR level 'A', 'C' or 'HCP'
Basic Life Support
Advanced Life Support
Standard first aid
Emergency first aid
Childcare first aid
Advanced first aid
Oxygen Administration
Babysitting Training
Pet first aid and CPR
Marine First Aid
Re-certifications
WHMIS
TDG
H2S Alive
H2S Awareness
Food Handling
Fire Safety
Confined Space Entry
To find the course(s) that is right for you use the contact information available above. Knowledgeable staff can help get you certified for your work requirements.
Did You Know?
Toxic shock syndrome
One of the most dangerous complications of infection is toxic shock syndrome. Wounds are easily infection if they aren't cleaned and dressed when needed. Bacteria can grown in the warm, moist environment of the wound, and can enter the blood stream. Toxic shock is often caused by staphylococcus aureus (staph infections). Signs and symptoms of toxic shock are as follows:
High fever
Vomiting
Diarrhea
Rash (particularly on the palms and soles)
Confusion
Muscle pain
Redness around eyes, mouth, and throat
Seizures
Headaches
Enrol in a training course today!