Fact Checked
Overview of Panic Disorders
Panic disorder is a sort of anxiety disorder characterized by recurring and erratic bursts of fear identified as panic attacks.
A panic attack is accompanied by physical symptoms that might feel like a heart attack or other severe conditions.
Severe anxiety frequently develops between periods of panic. As panic attacks become more regular, individuals start avoiding situations that could activate them.
Causes of Panic Disorders
Panic disorder is usually a result of:
Heredity or genetics
Transformations in the brain function
Risk Factors of Panic Disorders
Panic disorder is more frequent in females and young adults. Other factors that might increase your danger of getting panic disorder consist of:
Family history
Traumatic life situations
History of an additional anxiety disorder or nervous disposition
Symptoms of Panic Disorders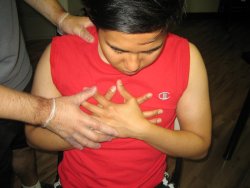 Panic attacks generally transpire unpredictably and constantly. Panic attack symptoms might include:
Unexpected and severe episodes of panic
Rapid heartbeat
Chest pain or uneasiness
Problems breathing
Choking feeling or swelling in the throat
Extreme sweating
Queasiness
Quivering or shaky
An urge to run away
Stomach ache
Treatment
The objective of treatment is to reduce the occurrence and intensity of panic attacks. Chat to your physician about the best treatment for you.
Cognitive Behavioral Therapy
Therapy concentrates on:
Learning how to identify what triggers your worries
Slowly forming improved thinking patterns
Doing breathing movements to help you calm down
Decreasing panic and feelings of fear
Prevention
To help decrease your likelihood of developing panic disorder, follow these steps:
Stay away from drinks that have caffeine.
Don't misuse alcohol and drugs.
Get lots of rest.
Plan regular time for yourself.
Partake in regular workouts.
Related Video On Panic Disorders