Fact Checked
Overview
A joint is where two bones join or attach. A dislocated joint occurs when the bones are partially or entirely pulled out of their usual position. Joints can dislocate when a strong force jerks the bone into an unusual position, or because the muscle contracts.
The most frequent joints that dislocate are the jaw, knee, shoulder, or joints in the fingers or thumbs.
Dislocating a joint can be really sore and cause other damage, like a crack in the end of the neighbouring bone or ripping off the ligaments around the joint. At times, it's hard to tell whether the injury is a dislocation or a fractured bone. If you're not certain, then always manage it as broken bone. Don't attempt to place the dislocated bone back into its socket as you might make it worse.
What To Look For – Dislocated Joints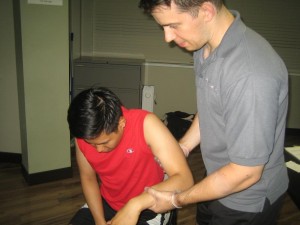 The four signs of a dislocated joint are:
Strong, nauseating pain
Not being able to move the joint
Inflammation and bruising surrounding the joint
Shortening, twisting or distortion of the joint
What You Need To Do – Dislocated Joints
Instruct them to stay motionless and help them to support their dislocated joint in the most relaxed position.
Stop the joint from shifting using a bandage. For an arm injury, make a sling to hold the arm. For a leg injury, use padding or create a splint.
To give extra support for an injured arm, tie it in place by bandaging around the sling and the chest.
Once you've supported the joint from moving, take or send the wounded individual to hospital.
Keep examining their breathing, pulse and level of reaction. Check the blood circulation past the bandages every ten minutes and untie if required.
Related Video On Dislocated Joints