Fact Checked
Joint pain refers to pain or discomfort to a person's joint due to injury, infection or inflammation. A person with joint pain may experience joint redness, joint swelling, joint warmth, joint deformity and joint stiffness.
Treatment for joint pain often depends on the cause of the pain. Treatment options may include rest, warm compresses, elevation, stretching exercises, physical therapy, weight reduction, stretching exercises, pain medication and antibiotics. The doctor may prescribe medication for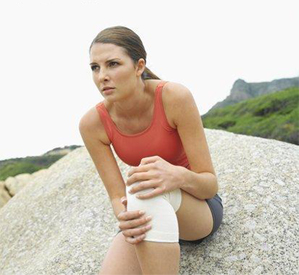 arthritis such as non-steroidal anti-inflammatory medication, immune system suppressing drugs and corticosteroids. Joint replacement surgery may be required for major joint injuries or diseases.
Disclaimer: this page on joint pain, signs, symptoms, causes and treatment is for information purposes only. To learn how to recognize and manage severe joint pain sign up for first aid training.
Causes
Causes of joint pain include:
Bursitis
Influenza
Sports injuries
Occupational injuries
Overuse injury
Falls
Ligament sprains
Osteoarthritis
Synovitis
Tendinitis
Viral syndrome
Risk factors associated with joint pain include:
Elderly
Recurrent stress to a joint
Family history of arthritis
Previously had a tick bite – increases chances of Lyme disease
Obesity
History of injury to the joint
Signs and symptoms
Signs and symptoms of joint pin include:
Joint stiffness
Joint deformity
Joint swelling
Joint warmth
Skin redness overlying the joint
Treatment
Treatment for joint pain may include:
Rest
Elevation
Warm compresses
Stretching exercises
Weight loss
Non-steroidal anti-inflammatory medication such as ibuprofen and naproxen
Narcotic pain medication for moderate to severe pain, for short-term use
Oral corticosteroid medication
Corticosteroid injections for pain in the joint
Physical therapy for pain in the joint
Severe damages to the joint may have to be repaired with joint replacement surgery
Home care treatment
Follow these home care steps for quick recovery from joint pain:
Avoid strenuous activities that may trigger or worsen pain
Avoid standing for too long
Avoid staying in one position for too long
Rest you joint by using walkers, crutches or a cane
Wear a sling to support the joint
If joints are swollen, apply a splint to redcue pain and swelling
Apply warm compresses for 20-30 minutes to redcue stiffness, every 1-2 hours
Follow a regular exercise program to recover from joint pain. Consult your health care provider about what exercises should be carried out. Make sure you follow the instructions given by your doctor and perform gentle stretching exercises after normal exercises
Take non-steroidal anti-inflammatory drugs such as ibuprofen or acetaminophen for pain
Your doctor may prescribe medications to recover from joint pain. take medication as directed and avoid skipping doses as this may make the medication less effective. Ask your doctor about the common side effects of the drugs prescribed.
Consider weight loss if you are overweight
Non-prescription pain rubs can be applied to relieve pain
When to seek medical attention
See your doctor if any of the following problems arise with joint pain:
Worsening pain in the joint
Severe joint pain
Other joints begin to ache as well
Joint swelling
Worsening fever
Worsening rash
Skin redness
Pain around the joint
Eye redness
Eye pain
Learn More
To learn more about severe joint paint and other injuries and emergencies enrol in first aid training with St Mark James.
Related Articles You May Also Like
Shoulder Separation

 First Aid and Management –

read more

What to do with a finger dislocation –

read more
Related Video